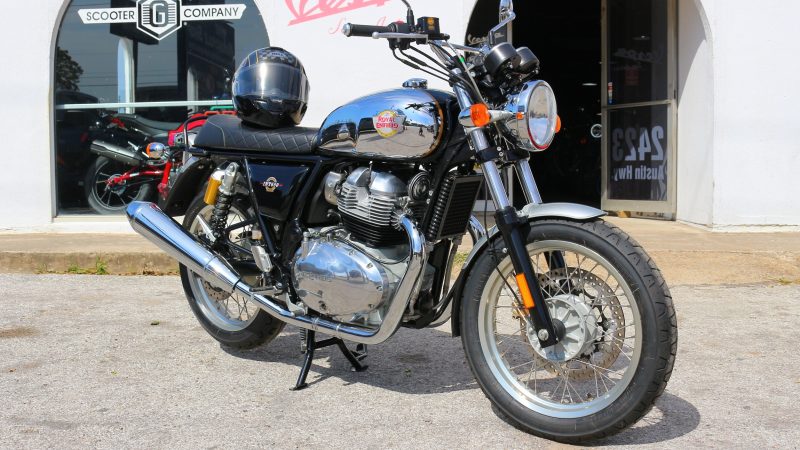 There is something about chrome that is so visceral…as in "I gotta have it!" That was my immediate reaction when I saw this bike, but the other four bikes currently in my stable made me saw reason. So since I'm not buying it (which I still want to), you'd better come in and grab it — fast.
This 2020 Royal Enfield INT650 (known as the Interceptor everywhere else) is a great motorcycle to start with. No doubt about that. But then add a gorgeous chrome fuel tank with black and gold accents, and you've got something truly awesome. We've written about the INT650 elsewhere (here…and here), so check out those articles if you're curious about the specifics of this bike.
What we're obsessed with is the great looks of this particular INT650. Chrome fuel tanks are a British tradition going way back. We've got a seriously vintage BSA on display that features a chrome tank, for example. This bike is guaranteed to get attention and positive comments. Even better, it's a fun, well-balanced bike for beginner and experienced rider alike.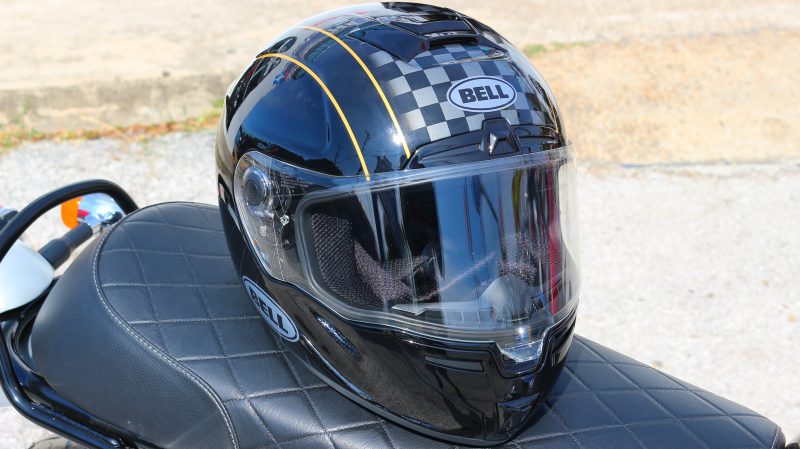 To complement the Royal Enfield, we are featuring the new Bell SRT helmet. This particular one has a gold and black motif, with a checkered-flag pattern across the top. It simply looks great when paired with this particular INT650. But better than that, it's SNELL approved — that is the highest level of certification available for a street helmet. The Snell Foundation is a not-for-profit helmet testing facility that holds helmets to the highest standards (the lowest standard is DOT, followed by the Euro ECE specification). At $199, it provides great looks and a high level of protection at an affordable price.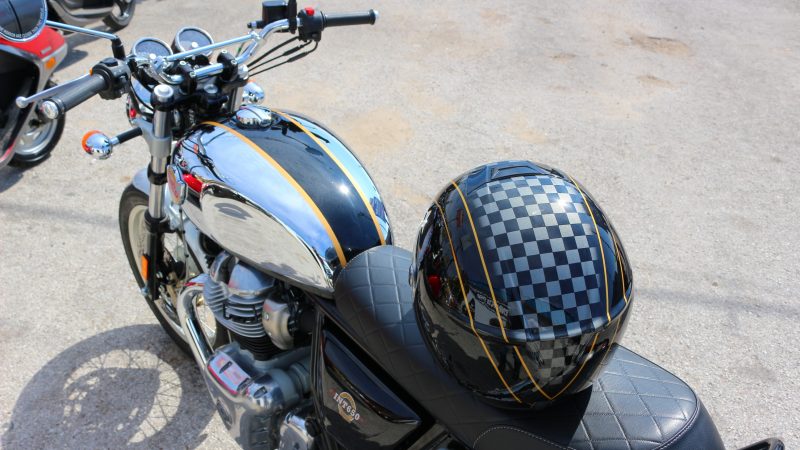 But I digress…back to the Royal Enfield. This one has it all: sprightly performance, great handling and brakes, and the best warranty in the business — 3 year factory warranty with 1 year of roadside assistance. Oh, and a winning price: $6,499 (plus taxes and fees, of course). Who wouldn't be tempted by this winning combination? Not to mention you're buying from a dealer that has been family owned in the same location for over 40 years. We value our customers like we value our friends…and some of our customers have been around that long. We'll be there tomorrow — and the day after — to take care of you! Drop by and visit us soon. In the meantime, check out the photo gallery below. See you many times you can catch the photographer in the reflections of all that chrome!