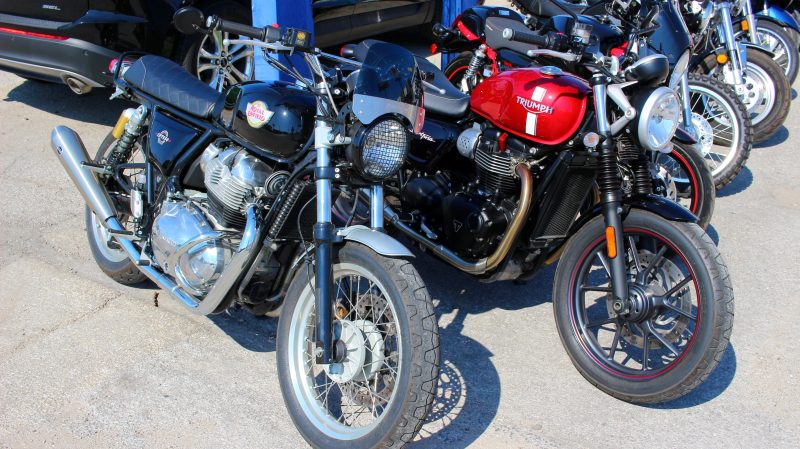 Update: The INT650 is sold, but the Street Twin is still available. Note that we are constantly getting more new Royal Enfields for your consideration. Be sure to check out our current inventory posted online.

There's no escaping it — comparisons will invariably be made between the new Royal Enfield 650 series and the Triumph Bonneville series. And yes, they are quite similar. But ultimately they are based on a common design idiom that goes back many decades. And believe it or not, Royal Enfield is actually the company with the true heritage!
If you're considering a bike in this class, we've got a unique opportunity for you. We currently have both a 2019 Royal Enfield INT650 and a 2016 Triumph Street Twin in stock, at very competitive prices. Come check them both out and decide for yourself.
In the meantime, enjoy this video comparing the INT650 (known as the Interceptor everywhere else) and the Triumph T120. It's an entertaining and thought-provoking video produced by an individual who surely has his own opinions…
After watching the video, if you still have any doubts about the Royal Enfield, know this: it comes with the best warranty in the business. 3 year factory warranty with 1 year roadside assistance. Not only that, but you're dealing with a family-owned dealership that has been in the same location for over 40 years. And we aren't going anywhere anytime soon. In this day and age, it's hard to find a business like that!