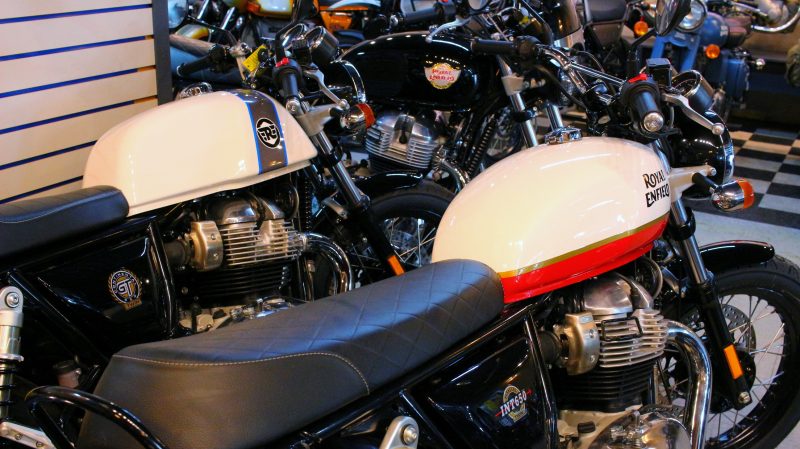 UPDATE: All gone! The secret is out — these are getting popular. But we have more on the way, and we currently have the 2020 chrome INT650 and GT650 in stock!
Have you checked out the new Royal Enfield 650 twins yet? Here's your chance! We currently have three different brand-new models in stock, each with its own characteristics.
In front is the INT650 (known in the rest of the world as the Interceptor 650) with a two-tone red and white gas tank. It retails for $5,999. Behind it is the GT650, which features a squared-off fuel tank, a café racer-style seat, and clip on handlebars for a more sporting look. It's priced at $6,299. Behind it is a custom INT650 featuring several add-ons, including S&S exhaust (sounds great!), LED turn signals, engine guards, a flyscreen, a wire mesh headlight guard, and much more! Even with all of these accessories, we can still offer it to you for only $6,499.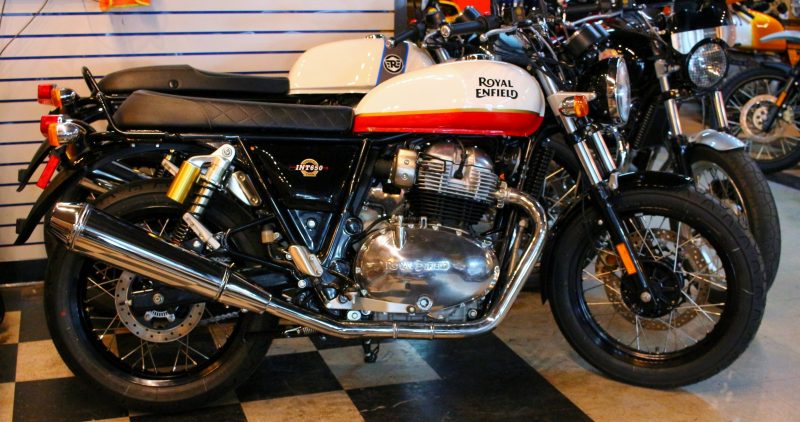 The Royal Enfield twins are an all-new design from the new Research & Development center in the United Kingdom. From the engine to the frame, everything is new and modern. They feature smooth-running fuel-injected engines that deliver power throughout the RPM range. Brakes are made ByBre, and subsidiary of Brembo. Rear shocks feature an expansion cartridge for increased damping, along with an adjustable pre-load cam. Fit and finish on these bikes is truly awesome.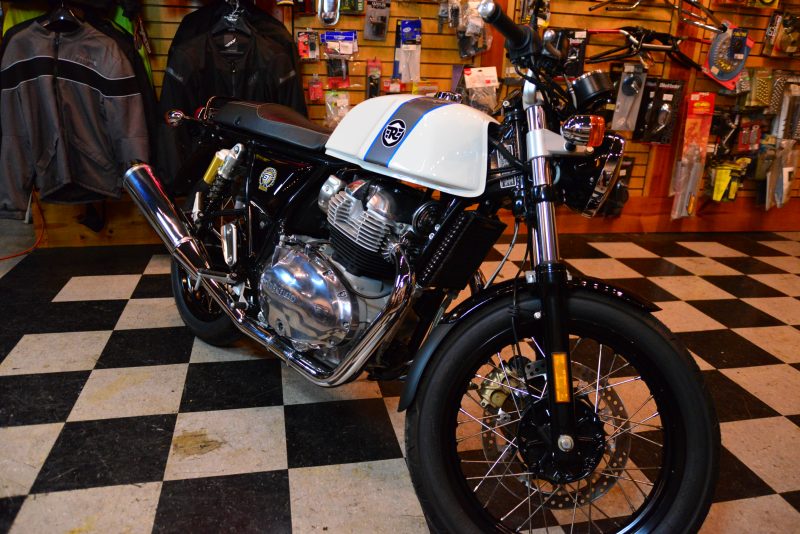 Perhaps best of all, Royal Enfield is offering the best warranty in the industry: 3 years factory warranty, along with 1 year of free roadside assistance. Now that's confidence!
Come and check them out today. They compare favorably to their competition, which can cost thousands of dollars more. Reviews and side-by-side tests by the motorcycling press have been completely favorable. There's a lot to like here!