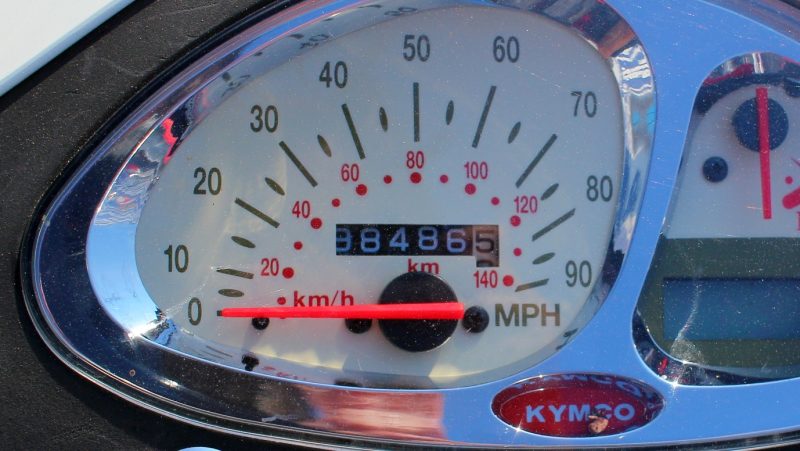 It's a question we've all heard, and probably asked it ourselves at some point in our lives. This 2007 Kymco People 150 gives us a really good clue. It has 98,485 kilometers on its odometer — that's approximately 60,000 miles. Not only that, but it's back out the road with a new owner who didn't seem to mind the mileage at all!
There really isn't any secret to having a scooter last this long, but there are a number of factors involved. First and foremost, it needs to be a well-made product. At The Motorcycle Shop, we sell only top-quality scooters and motorcycles — we've been in business a long time and that's one of the keys to our longevity.
The second part is up to you: care and maintenance. Your owner's manual is a very important part of a good maintenance strategy. It tells you what exactly needs to be maintained, and how often to do it. Check out the maintenance schedule…and follow it! Also check your wear components — such as tires and brake pads — regularly, or ask us to check things for you.
With most scooters, we recommend an oil change every 1,000 to 1,200 miles using full-synthetic motor oil. There's only 1 quart in the engine, and it's critical that it be changed regularly. In the case of this Kymco, the owner did her own oil changes and brought it in for other maintenance, such as having the drive belt and clutch weights replaced.
If you can store your scooter in a sheltered location, please do so. South Texas weather can be nasty stuff! If you don't have shelter, consider getting a cover instead. Everything you can do is a big help. Keep your scooter happy and it will reward you in return.
There's no guarantee that your scooter will last that long — your mileage may vary, as the expression goes.