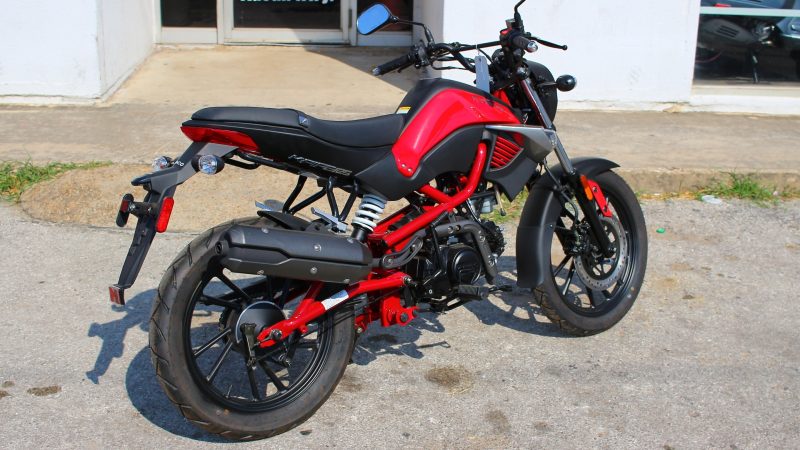 Good things do indeed come in smaller packages, and the Kymco K-Pipe is a great example of that. The K-Pipe is Kymco's entry into the 125cc motorcycle market, which has become popular due to the desire of riders looking for something different. The fact that it's relatively inexpensive helps, too.
The primary thing that sets the K-Pipe apart from its competitors is the 17-inch wheels, rather than its competitors' 12-inch wheels. The helps make the bike more nimble, and the larger-diameter tires help soak up bumps and potholes. Thanks to the 17″ wheels, even taller riders will feel comfortable riding it despite its smaller size. Combine this with a weight of only 247 pounds, and this is something you can easily flick into curves or around hazards. Change out the tires, and this would make a fun scrambler.
The powerplant is a straightforward air-cooled single cylinder with a single overhead cam. A combination carburetor/fuel petcock sits right on top. Brakes are hydraulic disc in front with a dual piston caliper. The rear brake is a tried-and-true mechanical drum setup. Suspension consists of standard forks in front and a monoshock setup in rear. The fuel tank holds 1.2 gallons, which is plenty considering the thrifty 125cc engine. Even so, this bike is relatively quick given its size. One online reviewer claims their test unit K-Pipe had a maximum speed of 76 mph.
The transmission is a semi-automatic unit with four speeds. There's no need to use the clutch when starting from a standstill. Just put in gear, release the brake and twist the throttle!
At a price of $2,099 (plus taxes and fees), the K-Pipe represents a true bargain. It's priced well below the competition, and it's just as much fun if not even more so. It comes with a 2-year factory warranty, so you can ride it with confidence. Come on into The Motorcycle Shop and check it out today!