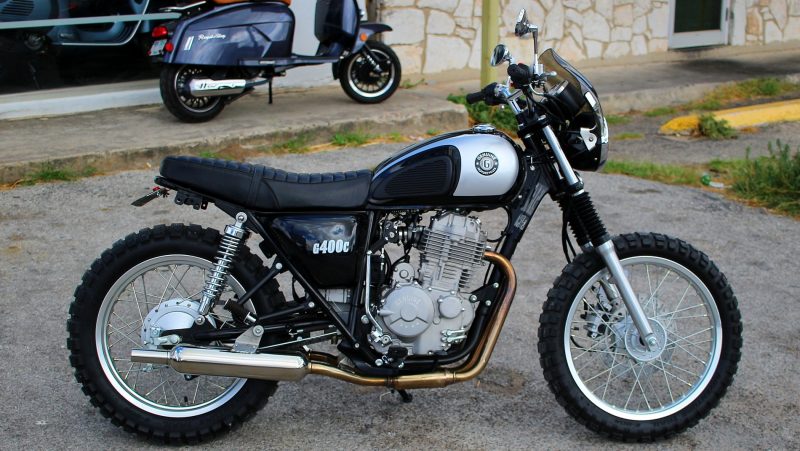 By Page Graham
One of a kind! Our proprietor, Jason Trott, is quite talented when it comes to customizing motorcycles. To paraphrase one local motorcycle enthusiast, "Jason has a real knack for accessorizing bikes."
This writer couldn't agree more. I was at the shop the other morning when I saw this beauty parked out front. "What is that?" I immediately asked. Jason replied that it was something he created from the first G400c to arrive in the shop. "Can I ride it?" was my next immediate question.
I'll be honest here. Not only am I a big fan of 400cc bikes (I have two in my current collection), I also suffer from a fondness for thumpers — large-displacement single-cylinder bikes. These two factors make for light and nimble bikes that are quick in the city and perform just fine on the freeway. And excellent commuter bike, as one local old-schooler puts it. And the fact that it's been tricked out as a scrambler? I could feel my checkbook begging to be whipped out.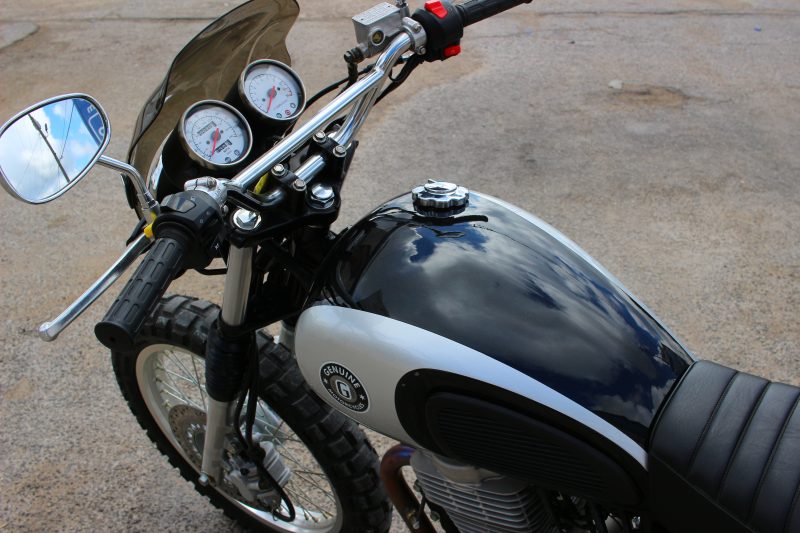 In its stock form, the G400c is a "standard" bike: upright riding position, flat saddle, traditional suspension front and rear, usually with a retro look and feel. In normal guise, the G400c features chrome fenders front and rear, along with a small sissy bar to help passengers stay on the saddle.
For the purposes of creating a scrambler, all of this has been removed. Front and rear fenders were tossed in the spare parts bin. An LED tail light and turn signals were installed. A flyscreen was added for both form and function. And to give it that scrambler look, knobby tires are a complete no-brainer. Plenty of "wow factor" going on here, to be sure.
Before we go for a ride, lets take a look at what we've got here starting with the engine. It's a 4-valve, overhead cam, single-cylinder powerplant…with a kickstarter! (There's also electric start, of course.) It's based on a classic Japanese design that has earned a tried-and-true reputation as a solid performer. The reason you see two exhaust pipes coming out the front is because each exhaust valve has its own port — increased exhaust scavenging equals more power. To top it all off, the G400c is a fuel-injected engine — say goodbye to carb rebuilds and hello to reliable starting.
Stopping power is provided by a more-than-adequate dual-piston disc brake up front, with a drum brake helping things out in the rear. Suspension is a traditional fork setup in the front, and shock/spring combos with adjustable preload in the rear. The frame is traditional steel tube complete with a dual cradle that helps to protect the engine. Full instrumentation — speedometer and tachometer — are provided. Seating position is upright and comfortable. Seat height is 31 inches, which was sufficient even for my 6'2″ frame, and shouldn't provide an issue for riders of all different heights.
If there is one complaint to be made (Hey, I gotta find at least one!), the indicator/warning lights are a little dim in full sunlight. I found I had to keep an eye on the turn signals to make sure I didn't leave them on. And that was about it.
Enough of the technical stuff — let's go for a ride! For starters, it's important to note that thumpers are torque monsters. Want to pop a wheelie? No problem. But I left that to Jason to demonstrate — I like to keep both wheels on the pavement.
After a quick pre-ride check (does it has gas? Yes, it does have a "low fuel" indicator), I peel off down Austin Highway. Zero-to-45 is a snap — this bike immediately impresses with its off-the-line capability. Cruising along is easy and the bike obviously isn't having to work to hard at urban parkway speeds.
But hey, what about uneven surfaces? Fortunately, there's some road construction going on down along Salado Creek, so I turn there to find some uneven pavement and gravel. The G400c handles it like a champ. Bumps, potholes and uneven surfaces don't bother this bike — it would obviously been a great gravel road or even a trail runner.
Okay, now it's time for some stop-and-go traffic. Fuel injection keeps the engine idling smoothly while waiting for long stoplights in the Texas summer heat. As previously mentioned, the 400cc single-cylinder simply begs for a good twist of the throttle from the stoplight — great for merging into traffic or just winning the stoplight drags. The brakes prove themselves to be effortless. Literally no thought was given to having to concern myself with stopping power. It just stopped as quickly or slowly as I needed.
Now that I'm starting to get familiar with this bike, it's time for the freeway. And we all know what San Antonio freeways are like. Speed limits…what speed limits? At first, I thought I would take it easy in the right lane. But I quickly got bored, and apparently the bike did too. So off we go into the fast lane! The G400c quickly proved itself to be solid and reliable. No wobble, no feelings of uncertainty here. And the flyscreen works great on standard bikes like these — it keeps the wind pressure off the chest. Pair it with a good full-face helmet and this makes for a fine freeway ride.
Now it's time to hit that tricky 120-degree freeway off-ramp. Check. Effortless — just lean and go!
Which brings me back full-circle to the key advantage of smaller-displacement bikes: weight. The Genuine G400c weighs a relatively svelte 353 pounds, which gives it many advantages in urban settings. Need to change a lane? No problem. Suddenly see a pothole? I can easily maneuver around it. Need to panic stop? Light weight equals less mass to haul down to a full stop. Check, check and check. I'm not kidding when I said my checkbook was making noises…but my two vintage 400's would probably get jealous. So it can be yours instead.
This one has gone along to its new owner, but we always have others in stock form. The G400c is a real value at $4,595. Yep, $4,595 (plus freight, prep + TT&L, of course). And we'll be happy to customize it to your personal taste!
Finally, you can buy the G400c with confidence. It comes with a full manufacturer's warranty, and Genuine provides an excellent one: 2 years unlimited mileage and 2 years of roadside assistance. Here in town, we can take care of any issues at The Motorcycle Shop. If you're on the road, there's a network of Genuine dealers to help you. Just get on it and ride it with a smile on your face.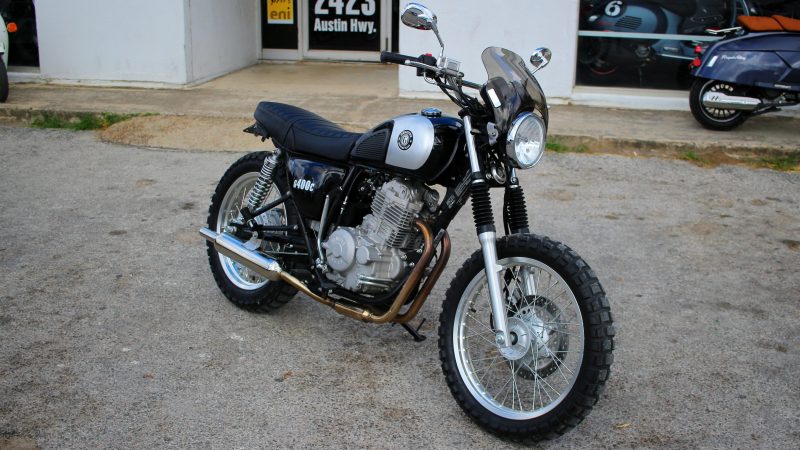 Like what you see here, but you already have a bike that you think it needs some upgrades? We can fully accessorize practically any bike or scooter we sell and/or service to your personal taste. Just bring your bike on over and let's talk. See ya soon!