New Scooter/Motorcycle Owners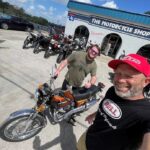 Come join our list of happy customers with your new scooter, motorcycle or even a electric bicycle soon!
The Trott family has been in the motorcycle industry for 90+ years. After starting out in Birmingham, England they moved the business into London. My great grandfather, Fred Trott I, and grandfather Fred Trott II, sold anything from Triumphs, BSAs, Arials and Vincents to Vespas, Lambrettas, James, Nortons, etc. Really, anything they could get their hands on. My Father, Fred Trott III, moved from London, England to San Antonio, Texas in 1969 and went to work at Cycle World on Broadway. They were The Honda, Triumph and Harley dealer in town. Then, in 1978, Fred left Cycle World and opened his own motorcycle shop which is, to this day, known as The Motorcycle Shop. We have been selling all types and makes of used motorcycles, scooters, dirt bikes, atvs, and sometimes watercraft ever since we opened. The Motorcycle Shop has and always will be a family owned and operated buisness. The family now consists of Fred and Gwen Trott, my brother, Fred Trott IV, (who moved back to London, England to start his own motorcycle shop), and my wife and I, Jason and Jenny Trott.