It's been a really mild winter (so far…let's hope it stays this way). Which means we've got some excellent riding weather. Which also means you need a motorcycle. Or a scooter. Or another motorcycle or scooter. I mean…who wants just one when there are so many different rides to enjoy?
Anyhow, let's take a look at what special offers we currently have at The Motorcycle Shop this season, starting with this Genuine G400c. It's got that cool 70s vintage vibe, but it has the modern conveniences you'd expect, like fuel injection and a front disc brake. It has a single-cylinder engine with a 4-valve head, which means plenty of torque down low, and horsepower higher in the rpm range. Great for riding around town or commuting down the freeway. It's seriously fun to ride! MSRP is $4,599 but we can take $500 off the price and sell it to you for $4,099. That's a great price for a motorcycle like this.
Next up is the SYM Wolf 300. Have you been have you been hanging out with your Grom buddies but are longing for something bigger, but not too much so? Here's a light and lively 300cc bike that will put a smile on your face. The contemporary café racer styling is matched with a thoroughly modern water-cooled single-cylinder 300cc engine that's fuel-injected. Front and rear disc brakes provide plenty of stopping power. It's a quick, nimble bike that is perfectly at home either on the back roads, or the freeway you need to ride to get to them. MSRP is $4,999. Since the black one shown here has been used as our demo, we can knock $1,500 off the price and sell it to you for $3,499! No, that is not a misprint. We also have a brand new white model that we can discount by $1,000 and sell it to you for $3,999. Come check them out!
Scooter lovers, we haven't forgotten you either. Here's a Piaggio MP3 500 that's just waiting for an owner. This unusual design makes for a great-handling ride — it can carve corners like nothing else! Piaggio is the parent company of Vespa and Aprilia, so you know there's quality engineering going on here. Buy with confidence, and go haul some butt on the freeway. MSRP on this scooter is $9,199, but we can take $1,000 off and sell it to you for $8,199. Be the only one on your block — heck, one of the few in the city — to own something that's tons of fun.
We also have a new Piaggio Fly 150 available for $300 off. (Photo coming soon, I promise!) MSRP is $2,899, so we can sell it to you for $2,599. It's a great little scooter for getting around town, hauling some groceries, or just heading to the local café to visit with your fellow socialites.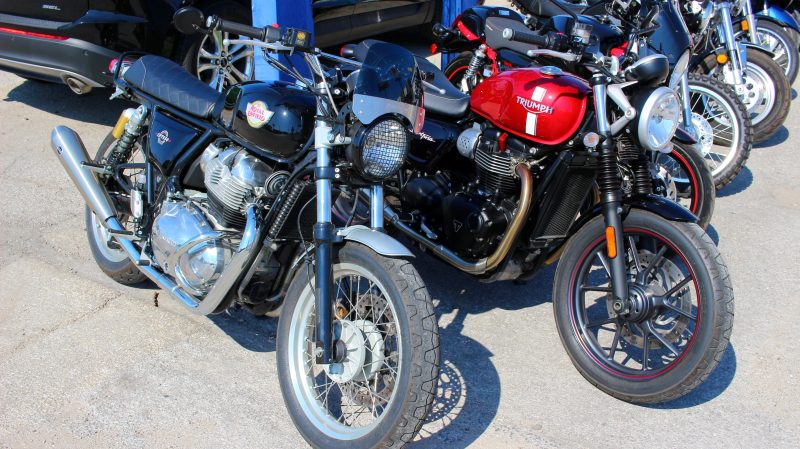 Check out this 2016 Triumph Street Twin (seen here on the right). Only one owner, well-kept, low miles (1674 mi.). It's ready to ride anywhere. Was $6,995, now on sale for $5,995.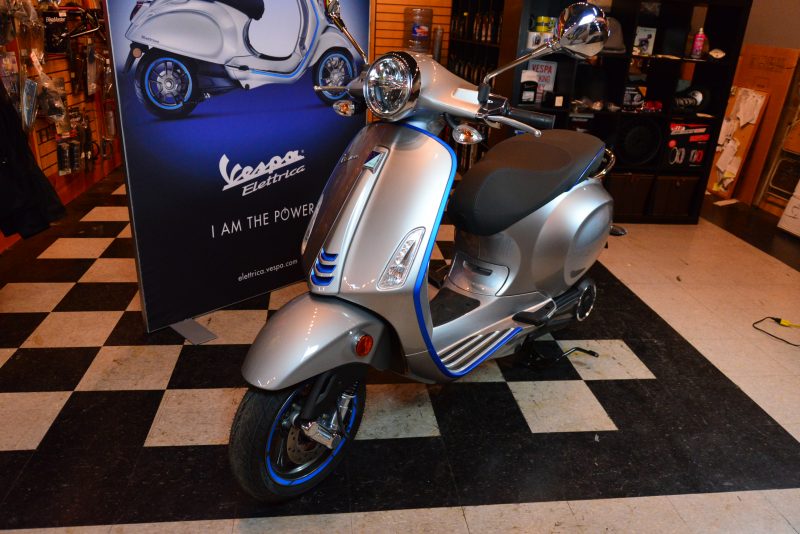 Finally, we're offing the 2020 Vespa Electtrica — yes, an electric Vespa. It's perfect for silently sneaking up on people! MSRP $7,499 — SALE $6,999
That's it for now, but stay tuned to this page — we'll be updating it regularly with manufacturer's offers and other specials on both scooters and motorcycles. Everyone likes a deal, and we're here to offer them up.
(Note that all new bikes are sale price plus freight, prep & TT+L.)